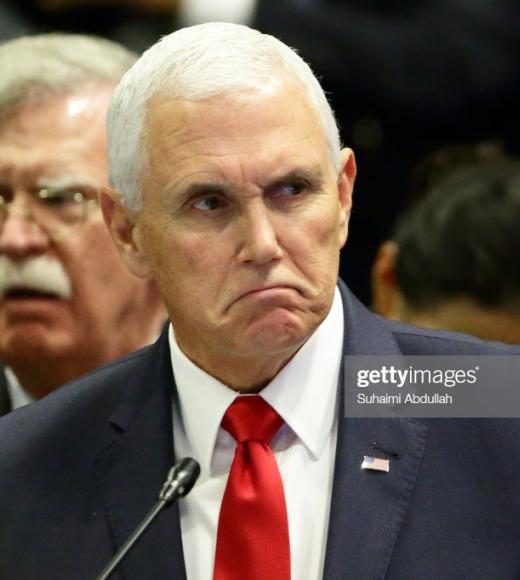 Position Title

48th and Current Vice President of the United States
Bio
Birth Date: 6/7/1959
Political Party: Republican
Alma Mater: BA in History - Hanover College (1981), J.D. from the Indiana University Robert H. McKinney School of Law (1986)
MikePence.com:
"Global Warming Disaster"
https://web.archive.org/web/20010415121513/http://mikepence.com/warm.html
In 2001, Mike Pence wrote in the very first sentence of an op-ed, "Global warming is a myth. The global warming treaty is a disaster. There, I said it." on his own website.
(Retrieved 5/24/19)
Mike Pence's Wikipedia even has a section dedicated to what Pence has stated about climate change: 
Pence "does not accept the scientific consensus that human activity is the primary driver of climate change."[335] In 2001, Pence wrote in an op-ed that "global warming is a myth," saying that "the earth is actually cooler today than it was about 50 years ago".[336][337] In 2006 and 2009, Pence expressed the view that it was unclear whether global warming was driven by human activity, and in 2009 he told political commentator Chris Matthews that there was a "growing skepticism in the scientific community about global warming".[338][339] In 2009, Pence led the Republican effort to defeat the American Clean Energy and Security Act (Waxman-Markey), a Democratic-backed bill to cut greenhouse gas emissions (and therefore combat climate change) through a cap-and-trade system.[335] On September 27, 2016, however, Pence said "there's no question" that human activity affects both the climate and the environment.[340] Pence holds a lifetime rating of 4 percent from the League of Conservation Voters.[341] While in the House, Pence "voted to eliminate funding for climate education programs and to prohibit the Environmental Protection Agency from regulating greenhouse gas emissions".[107] Pence also "repeatedly voted against energy efficiency and renewable energy funding and rules" and voted "for several bills that supported fossil fuel development, including legislation promoting offshore drilling".[107]
(Retrieved 5/24/19)
Pence is being called out due to him "flip-flopping" on his statements regarding climate change:
https://www.youtube.com/watch?v=JyrrJiqA_3E&feature=youtu.be
&
https://www.youtube.com/watch?v=Ez0NBslWEdA&feature=youtu.be